1.General
1.1 LE1-D Magnetic Starter ("starter" for short hereinafter)applies mainly to circuit with AC current of 50Hz (or 60Hz), rated operational voltage of 690V and rated controlled power up to 45KW (current up to 95A) for using to control the direct start and halt of the electromotor to protect the motor from overload and phase failure.
1.2 The starter conforms to standards IEC/EN60947-4-1.
2.Type Designation

3.Technical Data
Altitude: not exceeding 2000m.
Temperature of ambient air: -5°C ~ +40°C
Rated control supply voltage( AC 50Hz): 36V, 110V, 230V, 400V.
Mechanical life: 1,000,000 circles.
Electric life: 500,000 circles.
Table 1 Basic Model and main technical parameter of the starter
Model

Rated working
current (A)
AC-3
Maximum rated Power (kW) AC-3
Model of equipped AC Contactor
Tor matched
Range of setting current A
220V
380V
660V
QCX2-09
09
2.2
4
5.5
LE1-D09
JR28-25
1.0~1.6,1.6~2.5,2.5~4
4~6.5.5~8.7~10
QCX2-12
12
3
5.5
7.5
LE1-D12
9.0~13
QCX2-18
18
4
7.5
10
LE1-D18
12~18
QCX2-25
25
5.5
11
15
LE1-D25
17~25
QCX2-32
32
7.5
15
18.5
LE1-D32
JR28-36
23~32
QCX2-40
40
11
18.5
30
LE1-D40
JR28-93
30~40
QCX2-50
50
15
22
33
LE1-D50
37~50
QCX2-65
65
18.5
30
37
LE1-D65
48~65
QCX2-80
80
22
37
45
LE1-D80
63~80
QCX2-95
95
25
45
45
LE1-D95
80~93
4. Overall and Mounting Dimension (mm)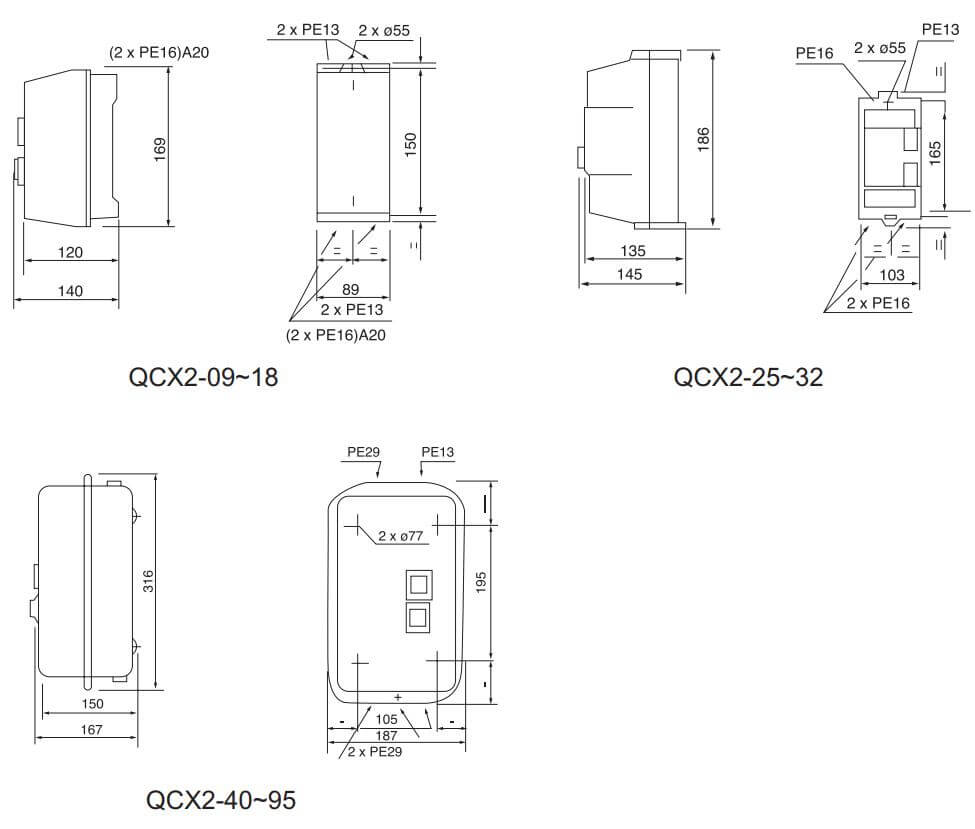 5. Wiring Diagram

Feedback